Board Member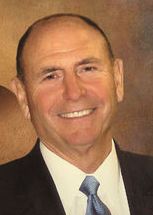 Tom Helfenbein is recently retired as President and CEO of Fellows, Helfenbein,, and Newman Funeral Homes. Tom is a native of Baltimore and graduated from Baltimore Polytechnic Institute in 1963. He worked for Howard Hubbard for seven years and then graduated with honors from the Pittsburgh Institute of Mortuary Science. Tom moved with his family to the Eastern Shore in the early 1970's and began his funeral business in Chester.

With a reputation of always putting people ahead of himself; he has always been active in the community. He's a proud member of the Masonic lodge where he served as grand master. He's also served on the boards of Farmers National Bank, and has been Chairman of the Board of Directors of CNB, formerly Centreville National Bank. He has served on the Boards of Queen Anne's Hospice, Kent Island Lions Club, and the QAC Parks and Recreation Advisory Board. He is a member of the Kent Island United Methodist Church. He's also an active member and advocate of the Kent Island Volunteer Fire Department, Kent Island Yacht Club, Bay Country Moose Lodge, and the Chesapeake College Foundation. In 2009, he was named Business Leader of the Year by the Queen Anne's County Chamber of Commerce.

He and his wife Bobbye have three sons; Chad, Kirk, and Ryan and seven grandchildren that they like to spend time with. Besides traveling and being on the water, Helfenbein loves to fix things and plans to devote more time to home improvements in his retirement.




---