"Fall reflections"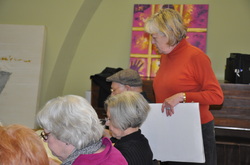 Using images of fall for inspiration, this class will explore various techniques and media while establishing compositions. Pumpkins, gourds, bird nests, leaves and autumn landscape will serve as subjects. Media will include watercolor, colored pencil, pastels and India ink. Students will receive a basic supplies list, other materials will be provided.

Wednesdays 9:30 am-12 pm Oct. 1 - Oct.29 $147 ($126 members) Ages 14
Register by 9/24

Instructor Sally Clark holds a B.A. degree from Rhodes College, Memphis, Tennessee and a certificate of study from the Institute for American University, Aix-en-Provence, France. An art educator for over 30 years, she enjoys working full-time as an artist. She is a member of the Artist's Gallery in Chestertown and her work is exhibited regionally and held in private collections.

---
Exploring Art – A Journey for Young People
Wednesdays 4:30-6:30 pm Oct. 8,15,22,29 $110($105 members) Ages 7-11

This course will introduce children to techniques of drawing and painting. Color theory, quality of line, composition, perspective, contour, tone and balance are ideas we will explore as we look at examples of art history and learn to make rewarding projects. Register by 10/1

Instructor Amy Cummins holds teaching degrees from NYU and Walden University, studied art here and abroad, and has over 10 years experience as an educator. Materials list will be provided to registered students.

STEAMPUNK SILVER HEART SHADOW BOX
Sun 1 - 4 pm Sept. 21
$50 Ages 13
Come enjoy an afternoon of plain creative fun! Think inside the box...or outside the box. We'll be showing you a cool technique to make your piece unique...Have fun! Materials provided. Register by 9/15 Location: 4300 Main St, Grasonville, MD.
Instructor Candace Liccione
grew up in the craft industry with her family's business, Aleene's Tacky Glue. Teaching crafts for many years as owner of a gift shop in Philadelphia and a farm in Pennsylvania, she now owns and operates Wye River Designs where she teaches mosaics, jewelry making, collage, crafts, mixed media arts, rubberstamping, and more.
www.wyeriverdesigns.com
MOVERS & SHAKERS CANVAS WINDOW
Sun 1 - 3 pm Oct. 12 $30 Ages 13+


For this fun project, we'll create a window on reverse side of a canvas, then fill it with a ceramic heart, fun beads, odds and ends, and paint it using a cool technique. Shake it and the parts will move. Materials provided. Register by 10/7 Instructor Candace Liccione. Location: 4300 Main St, Grasonville.
STACK'EM UP– Mixed Media Boxes
Sun 1 - 4 pm Oct. 26
$35 Ages 13+
Stack 'em up, glue, paint, decorate...to make a set of three papier maché boxes. Choose from an amazing array of papers and ephemera, embellishments, metal charms, beads, paper flowers and much more...to decorate this artsy project. Let your creative spirit soar! Materials provided. Register by 10/20. Instructor Candace Liccione.
Location: 4300 Main St, Grasonville.
SOMETHING FISHY– Mixed Media Fish
Sun 1 - 4 pm Nov. 2
$35 Ages 13+
It's time to flex your creative muscles! Learn to stencil design dimension, paint and collage tissue, create textures using recycled materials. Add colors, metallic waxes, bejewel with glass beads and wire swirls. You will leave with a beautiful art piece. Materials provided. Register by 10/28. Instructor Candace Liccione. Location: 4300 Main St, Grasonville.
MOSAIC SHOE
Sun 1 2- 4 pm Nov. 9 $40 Ages 13+

This is a show stopper. It's easy...You'll transform a high heeled shoe into a piece of art. Learn how to use a wheeled tile nipper, then glue and grout. Materials provided. Register by 11/3. Instructor Candace Liccione. Location: 4300 Main St, Grasonville.
DIGITAL SLR and iPHONE PHOTOGRAPHY
Saturdays 9 am - 4:30 pm Oct. 4 & Oct. 11 $110($99 members) Ages 16

Develop your photography skills and learn how to use your digital single lens reflex (DSLR) or iPhone camera. The class covers iPhone techniques, camera characteristics and lenses, operation and settings; exposure control, histogram, WB selections, selecting DSLR modes, accessories and in-camera editing, storage and file organizing software, image processing workflow, support equipment and many examples and tips on composition and camera handling. The class will hold interactive discussions and work on problem solving. Instructor Don Dement is an award winning professional photographer and instructor.